OPINION: Why 'That Statue' must be a privatised celebration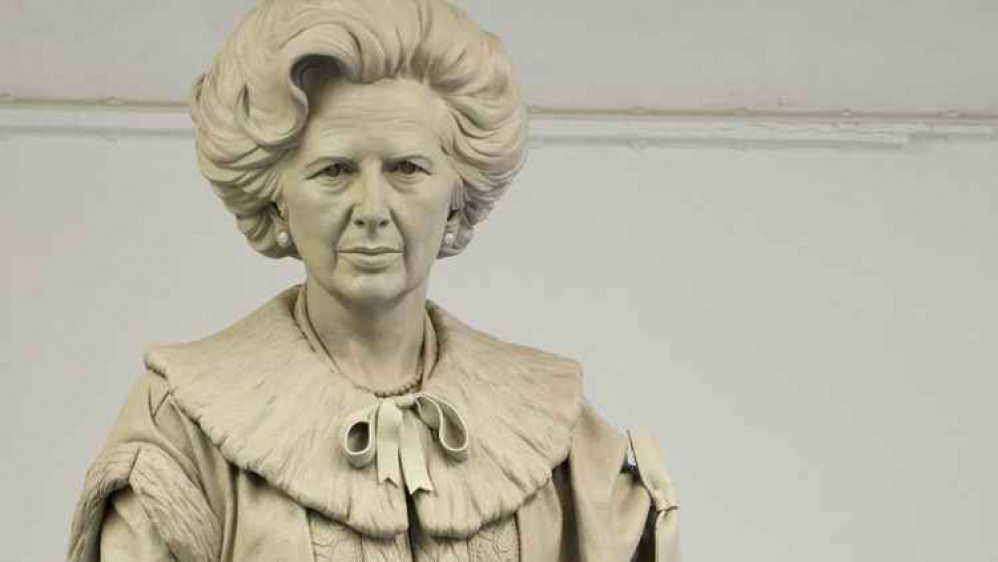 That Margaret Thatcher statue is still causing controversy, with opponents now focussing on the potential cost to residents of South Kesteven and how transparent such costs are.
The district council has agreed to 'under-write' the sum of £100,000 for the unveiling and related festivities. This doesn't mean that this will be the actual bill to be paid by council taxpayers, but simply the maximum potential liability should private fundraising be a total zero-sum raised failure.
The ruling Conservatives rightly stress the funds for the unveiling will be raised privately, but because such money is not in the bag already, this has given opponents a stick with which to beat them.
Indeed, considering the unveiling has seemingly been on hold for a year or more due to the pandemic, you might have expected some fundraising for the unveiling to have taken place already, and wasn't there some fundraising to pay for a statue some years ago?
South Kesteven District Council and the museum did brilliantly to secure the £300,000 Douglas Murray statue, which was to be erected in London, until security concerns led Westminster Council to think differently.
Now erecting a statue on St Peter's Hill might raise some hackles, and you may remember a self-styled 'anti-fascist' organised an egg throwing event, which attracted thousands of people online saying they would attend. But to me there's nothing more 'fascist' than trying to sabotage and silence something you disagree with.
Grantham should honour its most famous daughter, just as it might, had it produced a Labour Prime Minister, be it Tony Blair or Tony Benn.
Other towns, like Huddersfield in West Yorkshire, have their own statues, such as one for its son Harold Wilson. I bet the Tories there didn't seek to sabotage it in anyway. I bet they were proud of him too. And he closed more pits than she did!
Either way, considering times as they are, the unveiling of the statue and related festivities must be totally, privately funded, if only to prove a point. She was the architect of privatisation after all, who would not be too happy to relay on the state to pay for her celebrations.
Opponents like to say Margaret Thatcher was unpopular, but she did win three General Elections, two with landslides, and was only defeated by 'backstabbers' in her own party.
Here is a chance for Tories everywhere to prove that the Iron Lady was popular by raising not just the £100,000 or so for the unveiling but much, much, more for much, much, more.
A statue and a few knick-knacks in Grantham Museum seems a paltry tribute for someone so significant, who so fundamentally changed the direction of Britain that Labour's Tony Blair found hard to change course.
Margaret Thatcher was a Titan compared to the pygmy politicians of today. We might remember Boris over Covid and Brexit in years to come but Theresa who? Sir Keir what?
Not just at home but the Grocer's Daughter was a colossus on the World stage sorting out major issues of the day, like the 'Cold War' with her political soulmate, US President Ronald Reagan.
The significance of her stature, her impact, is confirmed by the passions she still arouses today. So in their own way, her opponents by their activities, simply highlight the power that she was and still is.
And she died almost ten years ago, and left office more than 30 years ago!
So should Grantham, or indeed the country do more to honour her?
In the mid-90s, I was in California and being a political animal, I visited the Presidential Libraries of Ronald Reagan and Richard Nixon. They were magnificent places and very informative. If Yorba Linda can show off the birthplace of 'Tricky Dicky' then why can't we make a fuss over Margaret Thatcher? Indeed, and I bet when the time comes, the Presidential Library of Donald Trump will be 'biglier' than the rest of them.
More recently, in the Polish shipbuilding town of Gdansk, I visited the magnificent museum dedicated to Solidarity, the Trades Union that did so much to undermine communism and help bring the brave Polish people to freedom. Up the road from it, is an excellent World War Two museum giving a Polish perspective of the last war.
So why not have a 'proper' Margaret Thatcher Library or centre? It might be cheaper than you think.
Just before Christmas, the George Centre in Grantham was sold at auction for less than £1M- a fraction of the £5M-plus it made in the 1990s. The statue could go where the tree was over Christmas, safe from any potential vandals, and a couple of the exterior units could provide rental income to help with its running costs.
With the rest could come a library, with books, films, photos, newspapers and documents from the Thatcher era and afterwards considering her impact. Perhaps it could have an 80s feel to it, to provide wider appeal. Showcase the music, the tv, the movies and some of the inventions and artefacts of the era.
There could also be 'festivals' with speakers from the time, the authors who wrote books about her and her government, journalists, not to mention politicians, including opposition ones.
This will cost more than £100,000 but such a centre should be a matter of pride to Tories, conservatives and free-marketeers everywhere.
Some years back, reporting on a Conservative Party Conference, I saw the author Jeffrey Archer fundraising before the party faithful.
"It must be worth £5, £10, not to see Neil Kinnock in Number 10," he said.
"It must be worth £20, £50, not to have a Labour Chancellor getting his hands in your pockets," he continued, before the collecting plate was passed around.
The local Tories might want to think what it will be worth to get one up on their opponents in the Council chamber.
And further afield, we must think of the businesspeople nationally and globally who benefited from her economic reforms, the 'Big Bang' deregulation of the City, and so on, the inspiration 'Thatcherism' provided other nations in 'saving' their economies.
Our local leaders must tap the shoulders and the pockets of the 'party grandees,' our MP Gareth Davies, with his finance background, must also know a few with a few bob to spare. It has to be done.
Otherwise, failure would be a great price to pay, that the Conservatives couldn't raise the cash to honour someone seen as so great by so many, that Margaret Thatcher wasn't so popular after all. It would be so embarrassing to have to take a penny from the public purse, especially in our pandemic era when so many are struggling.
Though they might not yet realise it, the opposition at SKDC, be they in Stamford, the Deepings, Bourne or Earlesfield, may well end up helping South Kesteven's ruling Tories make better decisions than they otherwise would without them. It wouldn't be the first time.